As the name suggests, these Customized Mini Name Labels are designed for thin and/or skinny items and are perfect for School/Office or Home. These Personalised Clear Stickers are made from High Quality Vinyl and are best stuck on flat surfaces. They also make for great Birthday Return Gifts!
Ideal for: Pencils, pens, markers, crayons, eyeglasses, sunglasses, spoon, fork, paintbrush, ruler, toothbrush, stapler, comb, toys, etc.
Durability: Made from High quality Vinyl, these Mini Labels are Durable, Microwave safe, Waterproof & UV Protected.
Design: Choose one from two Monogram Options either Royal or Floral.
Personalisation Option: Up to 1 line of text.
Actual Customer Reviews

I have been regular to smiles labels since my toddler started school. And liking it so much..thats y ordered this year too. Keep up the good work.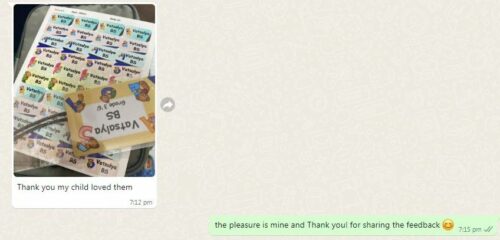 Thank you my children loved them.

Three years never disappointed with product or services.

Hii. I received the labels and I loved it. Thank you so much.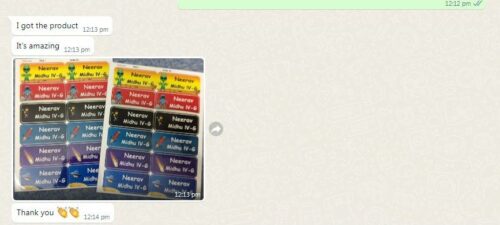 I got the product. Its amazing. Thank you.

Your quality is best.

Hi. I have received the stickers. They are amazing. Look forward to order more in future.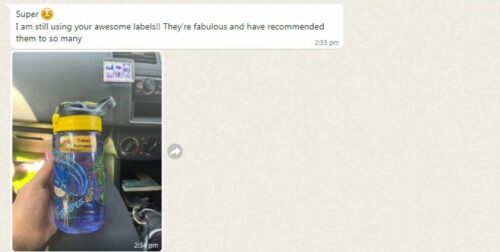 I am still using your awesome labels!! They're fabulous and have recommended them to so many.
Received the package. Thank you so much. They are really nice…daughter loved them.

Got the parcel. Mind blowing it is. Loved it loved it loved it !!!

Hi! Received the products yesterday. Lovedddddd all of it! Thank you so much…my kids are so happy.

Am in receipt of the ordered stickers. Fully satisfied with the quality. Will recommend to my kith and kin.

Its too cute my son liked so much.

All labels are perfect. My kid liked tht very much.